Hiwonder LD-220MG Full Metal Gear Digital Servo with Dual Ball Bearing,Metal Servo Horn, Metal Bracket for Robot
Hiwonder LD-220MG Full Metal Gear Digital Servo with Dual Ball Bearing,Metal Servo Horn, Metal Bracket for Robot
Hiwonder LD-220MG Full Metal Gear Digital Servo with Dual Ball Bearing,Metal Servo Horn, Metal Bracket for Robot
20kg large torque. 20 kg·cm (277.6 oz·in) @ 7.4V
Full metal gear
Aluminium case
Come with 2 metal servo horn and 2 metal bracket
Dual ball bearing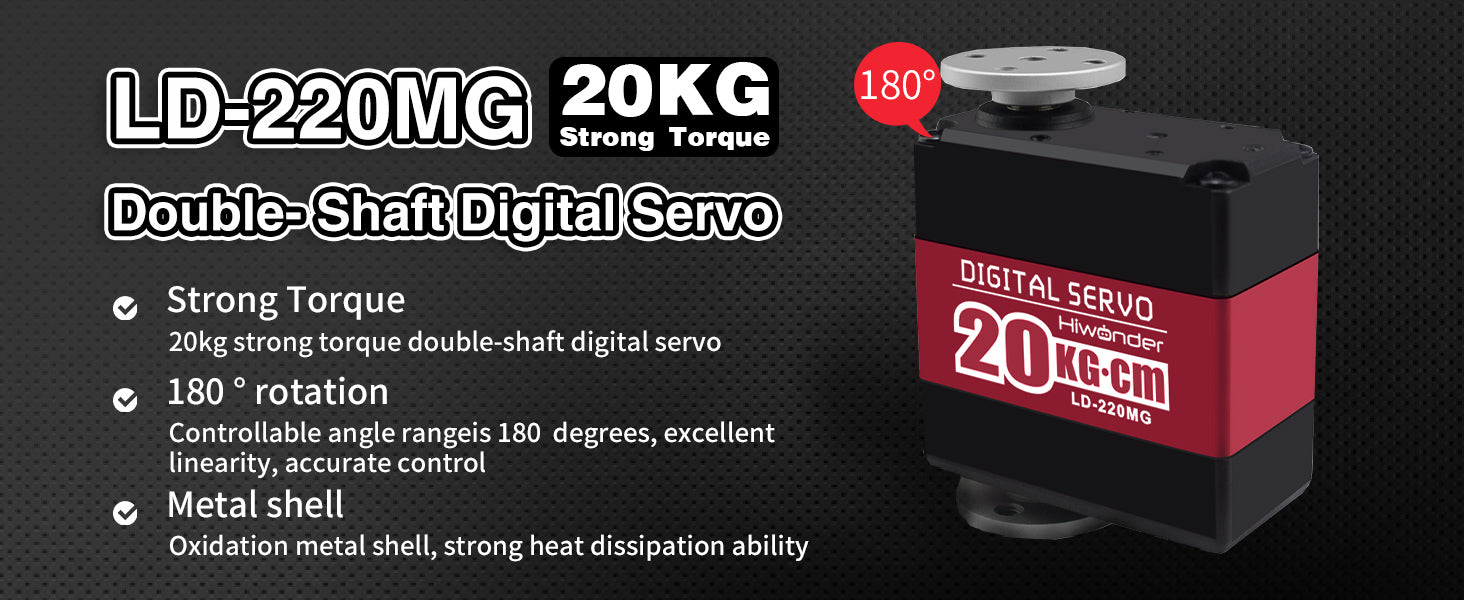 Feature
20kg large torque. 20 kg·cm (277.6 oz·in) @ 7.4V
Dimension: 40mm*20mm*51.4mm (1.57inch*0.78inch*2.02inch)
Full metal gear significantly improves servo's accuracy and extend its service time
Aluminum Case enhances the heat dissipation and ensures the servo motor work properly
Come with 2 metal servo horns and 2 metal brackets. 180 degrees rotation
Controllable angle range from 0 to 180 degrees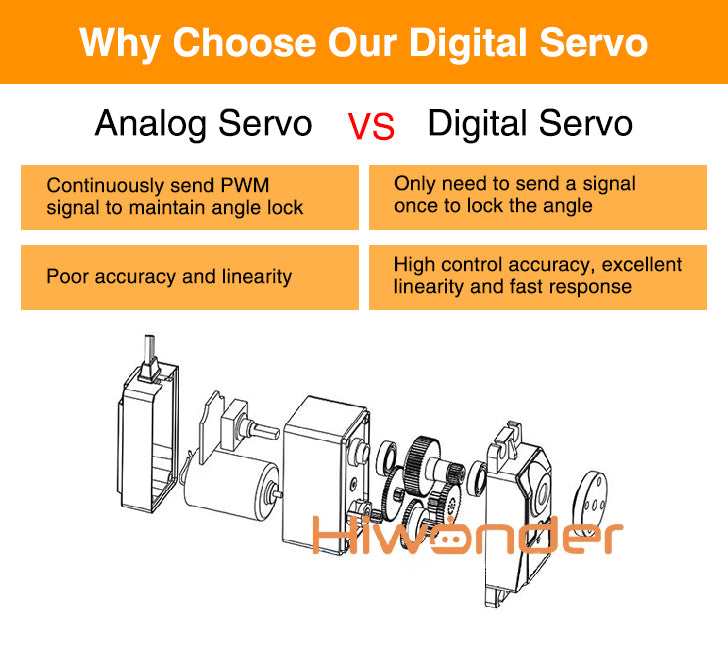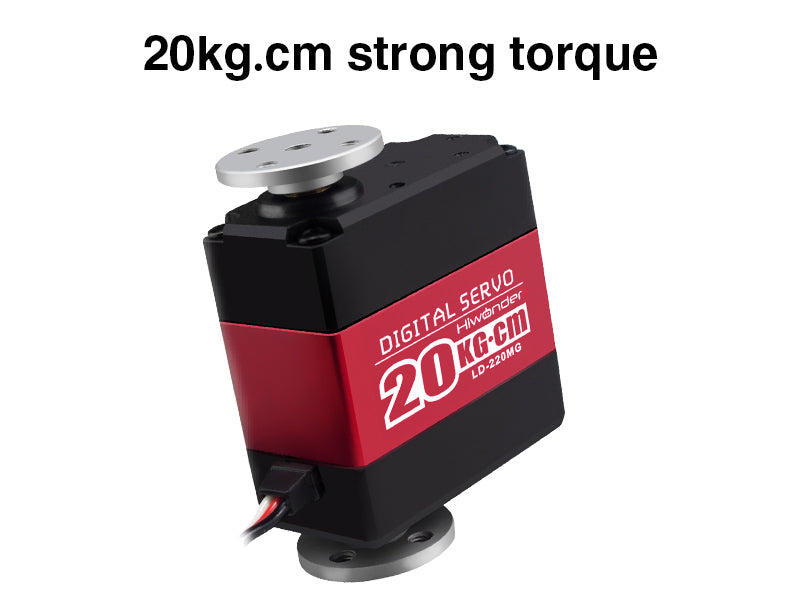 Powerful Torque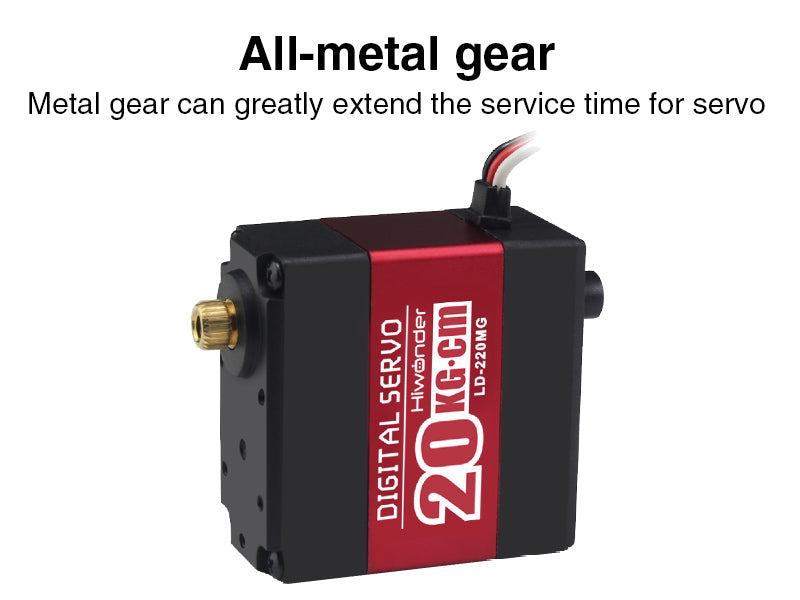 All Metal Gear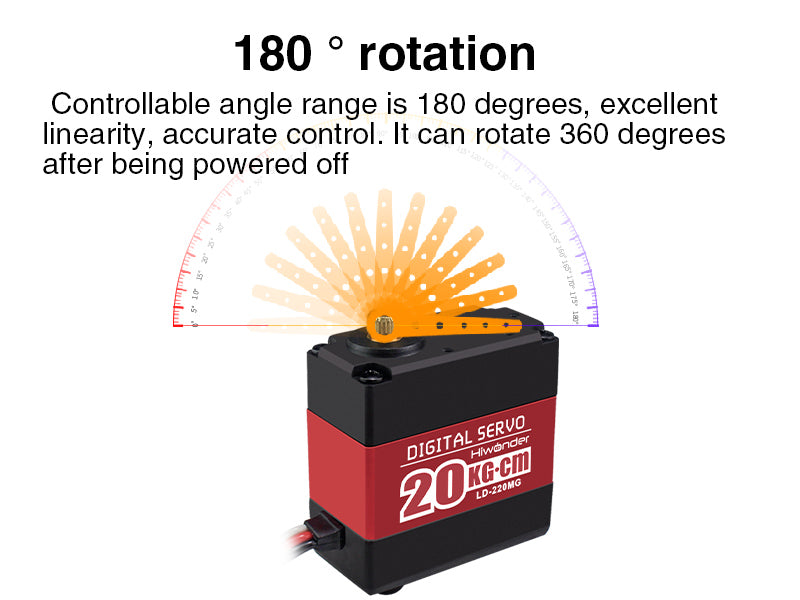 180° Rotation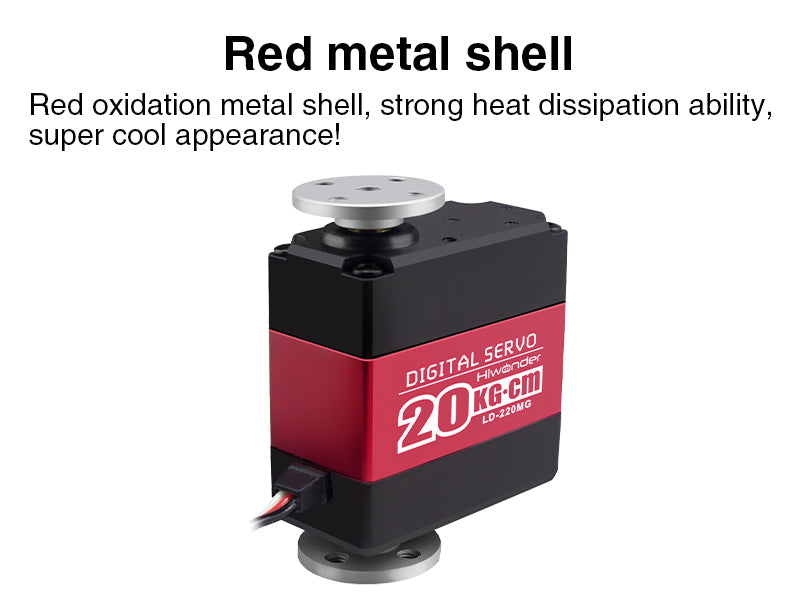 Red Metal Shell


Packing List
1* LD-220MG double-shaft digital servo
1* Assistant servo horn
1* Main servo horn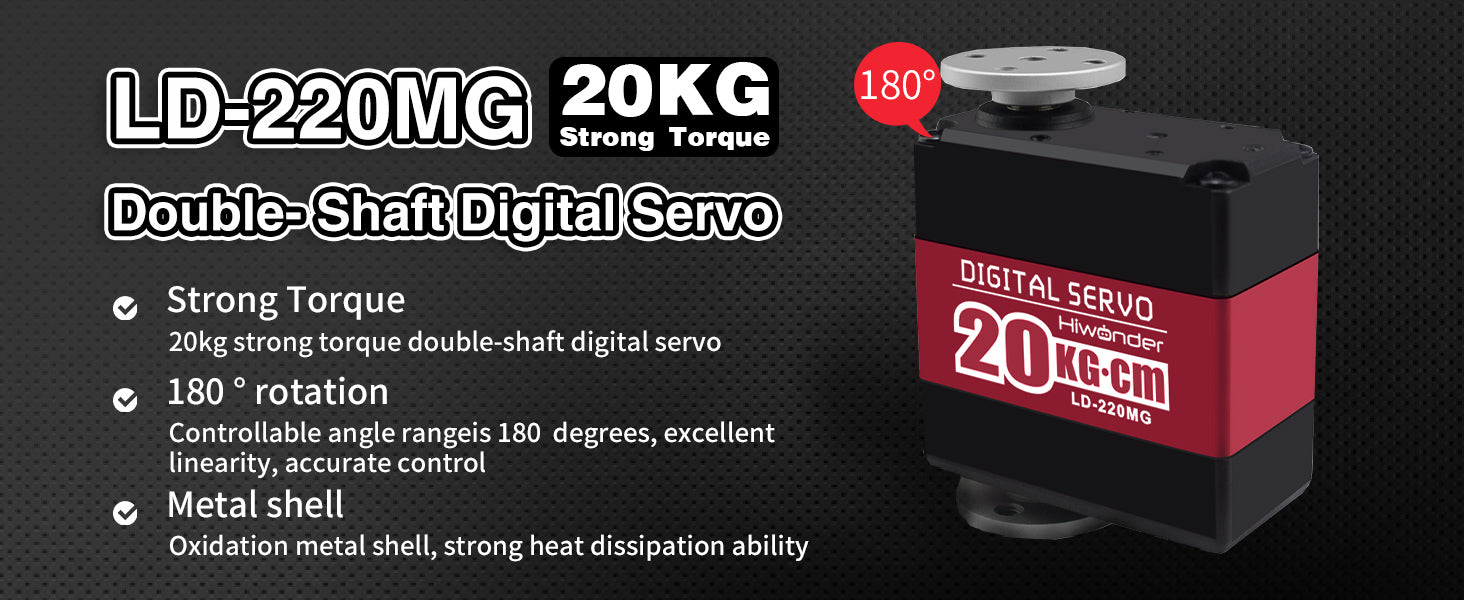 Feature
20kg large torque. 20 kg·cm (277.6 oz·in) @ 7.4V
Dimension: 40mm*20mm*51.4mm (1.57inch*0.78inch*2.02inch)
Full metal gear significantly improves servo's accuracy and extend its service time
Aluminum Case enhances the heat dissipation and ensures the servo motor work properly
Come with 2 metal servo horns and 2 metal brackets. 180 degrees rotation
Controllable angle range from 0 to 180 degrees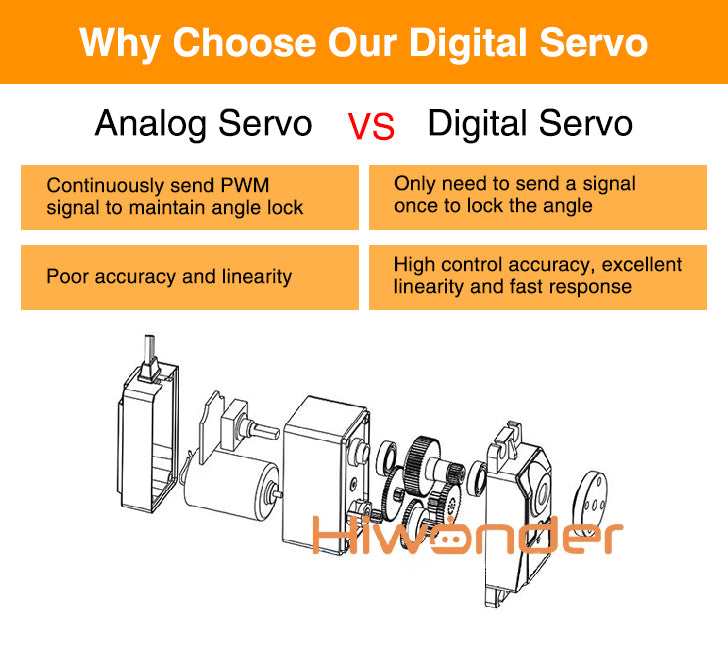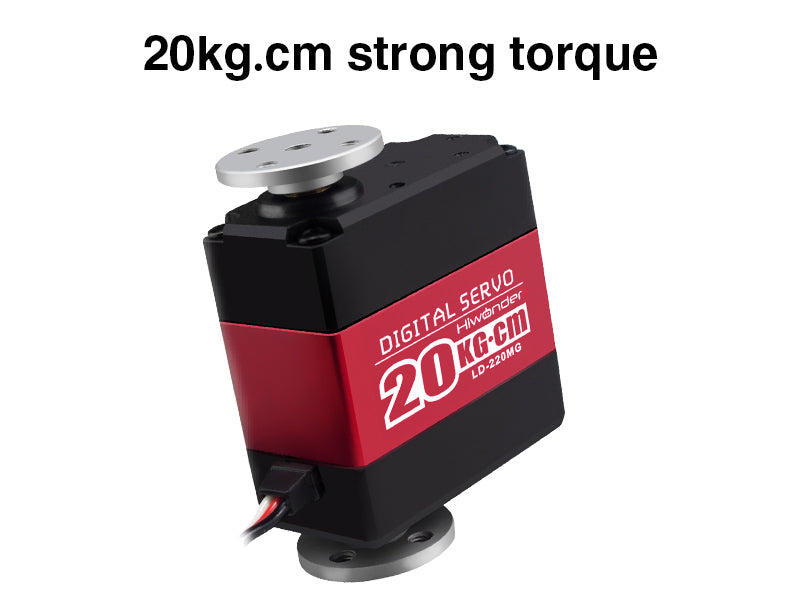 Powerful Torque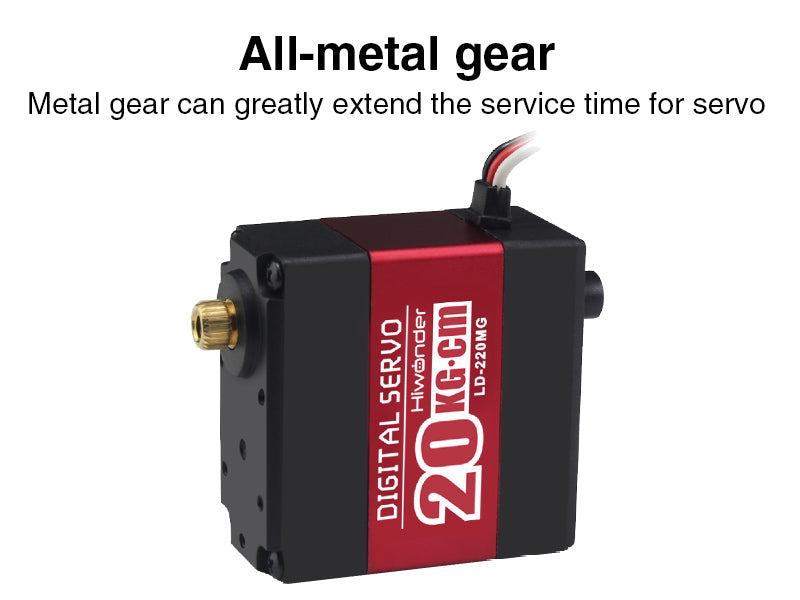 All Metal Gear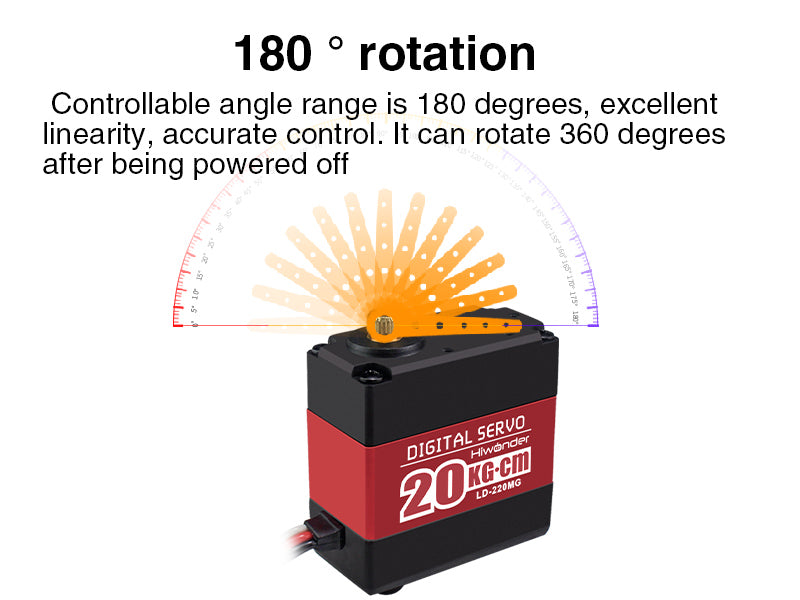 180° Rotation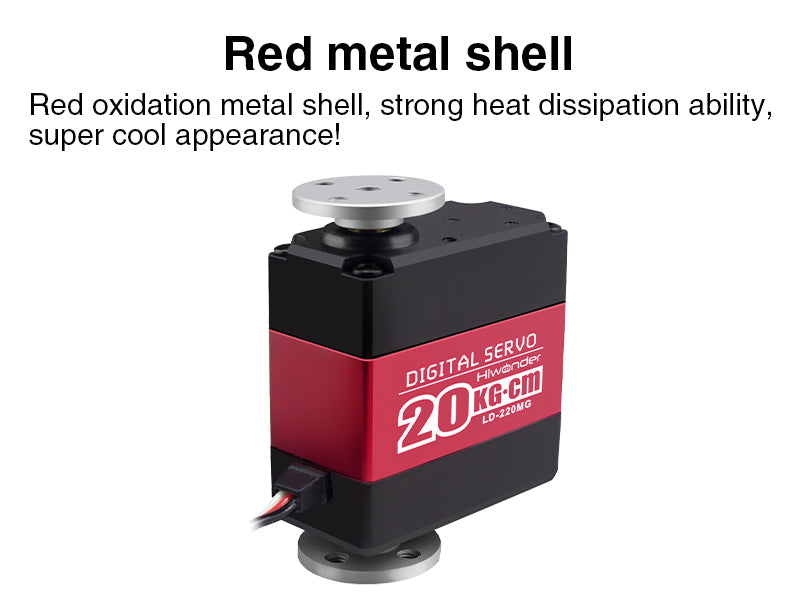 Red Metal Shell


Packing List
1* LD-220MG double-shaft digital servo
1* Assistant servo horn
1* Main servo horn
Item
Specification
Weight
66g(2.32OZ)
Dimension
40mm*20mm*51.4mm (1.57inch*0.78inch*2.02inch)
Speed
0.20sec/60°(7.4V)
Torque
20 kg·cm (277.6 oz·in) @7.4V
Working Voltage
6-8.4V
Min Working Current
1A
No-load Current
100mA
Spline
25T (6mm in diameter)
Servo Horn Diameter
(main servo horn 1.016inch, assistant servo horn 0.508inch)
Control Method
PWM
Pulse Width
500~2500us,to (

0~180 deg)

Duty Ratio
0.5ms~2.5ms
Pulse Period
20ms
Wire Layout
red wire: +
black wire: GND
white wire: PWM/signal
Package List
1* digital servo
1* screw kit(as shown in the figure)
2* metal servo horn
2* metal bracket
Please make sure that the duty cycle of the controller you used is confirmed to our specifications. Otherwise, the servo can't turn up to a claimed degree.
Important Notes
Recommend to use lithium polymer battery with high rate discharge(min 5C), please don't use the dry battery.

Please use a short and thick power cord, don't use Dupont cord.
Very solid and easy to use.
They seem to very precise. These are very well made and are surprisingly strong for size. For those who are concerned about power concerned about power consumption, be ware and modify your circuits accordingly. It's an excellent servo at all.
Works!
These servos have a lot of torque. So far it's been holding really well, I'm very pleased with these servo. My stock servo which was broke so I replaced it with this 20 kg servo. Big improvement strength.
Powerful servo
Great servo for robotics projects. Come with brackets and screws to attach body and shaft to whatever you need. Super impressed and totally exceeded my expectations.